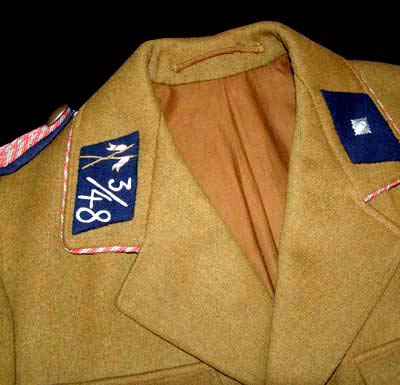 SA Tunic. Reiter Standarte. Hessen.
SA Reiter Standarte tunic for sale dating from the mid-to late 1930s. The wool gabardine, SA tunic with typical pleated top, and bottom box pockets. The tunic insignia includes a blue patch with silver Reiter motif, along with chain-stitched 3/48. Epaulette, piped collar, and good wool armband.The interior in a mid-brown cotton and with typical tailor stripes to sleeves.

Condition report: Overall excellent condition. Free from moth and showing just light use.
Note: Reiter Standarte 48 were stationed at Marburg, Hessen.
Please click here to send an email about this item, or phone 00 44 (0) 1694 781354 to arrange or discuss purchase, quoting stock number: g090534
Click here to return to category.