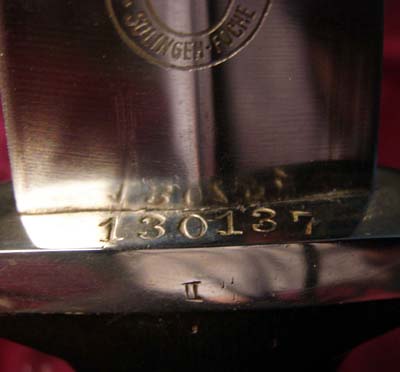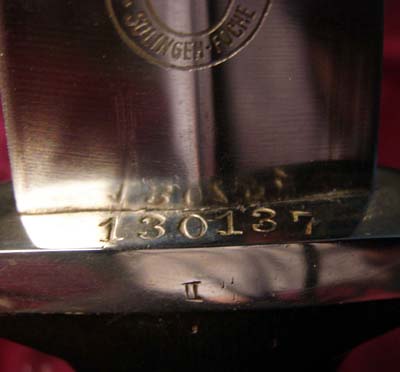 SS Dagger by Hammersfahr. 1933 Pattern. SS Membership number '130 137.'
An SS dagger for sale by Gottleib Hammersfahr. The early 1933, SS dagger with solid nickel-silver fittings throughout and large oval trademark. The ebony dagger grip is in perfect condition and bears the excellent nickel-silver runes eye and eagle/swastika emblems. The lower solid nickel crossguard bears a 'II' stamp to the reverse, along with the SS membership number '130 137' stamped to the underside.
The SS dagger blade is in excellent condition with 98% of the crossgrain remaining (only marks to blade are from the runners). Scabbard is in a painted black finish with close to 98% finish remaining).
A particularly rare, black leather swivel hanger, (allowing the dagger to be carried vertically or at an angle) is fitted to the dagger. See Wittmann's Exploring The Dress Daggers and Swords of the German SS pages 632-633). The hanger may be purchased with the dagger, or separately.
The SS dagger with hanger is in near mint condition.
Click here to return to category.