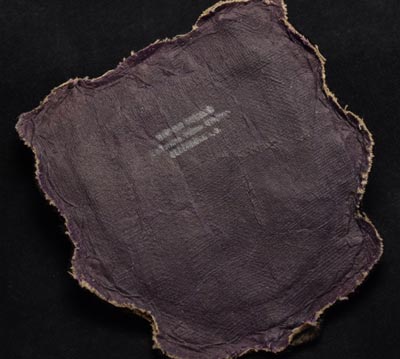 Government Official Sleeve Insignia | Pay Group B3 & B4.
Government Official sleeve insignia for sale. Silver wire eagle clutching swastika on a blue wool padded base The eagle at the top of an oakleaves wreath. Two ranking stars. The reverse with typical blue paper material and faint remains of a manufacturer / supplier name and address.
Condition report: The insignia removed from a sleeve and showing evidence of wear. Some oxidation present overall to the silver-aluminium wire work.
Notes: This sleeve insignia was carried by Government Officials with a pay scale of B3 and B4. See In The Service Of The Reich pages 82-86 (Bender Publication) for further information

Please click here to send an email about this item, or phone 00 44 (0) 1694 781354 to arrange or discuss purchase, quoting stock number: g008269
Click here to return to category.