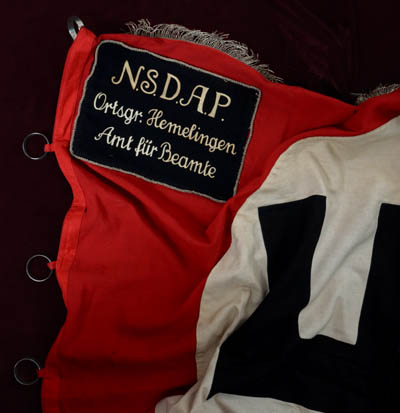 NSDAP Flag | Ortsguppe Hemelingen | Admin- Office | Static Swastika.
A German NSDAP Flag for sale circa late 1920's to 1930. The particularly fine, NSDAP, tri-colour Flag with static, black swastika charge, old style silver tresse, and nickel silver rings to the hoist.
The black wool canton, with white, chain-stitched, cursive script: N.S.D.A.P Ortsgr.Hemelingen Amt für Beamte, and typical, period silver, broad-piping to the border.
Condition report: Overall very good condition. A few moth holes to the red cloth. White roundel and black swastika clean. Free from fading. All rings remain attached.

Notes: Ortsgruppe Hemelingen is situated within Bremen in Northern Germany. It was taken by the British at the end of World War II.

Further Reading:
Title: Deutschland Erwache.
Sub-Title: The History & Development of the Nazi Party and the 'Germany Awake' Standards.
Publisher: R. James Bender Publishing, USA.

Author: Ulric of England
Published 1997
ISBN 0912138696
To browse or buy the Deutschland Erwache book please refer to product code g006680

Please click here to send an email about this item, or phone 00 44 (0) 1694 781354 to arrange or discuss purchase, quoting stock number: g008210
Click here to return to category.