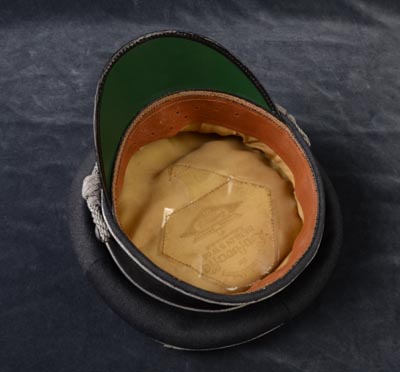 Luftwaffe Officer Visor Cap | Double Erel
Luftwaffe peak visor cap for sale. The Double Erel, Luftwaffe Officer peak visor with typical field-blue wool gabardine crown and black mohair cap-band. The Luftwaffe peak visor insiginia includes a premium-quality silver-aluminium wire eagle & swastika and silver-aluminium wire, winged-oakleaves with cockade to the centre.
The Double Erel, peak visor cap is lined with beige silk, shows a full celluloid diamond bearing [blocked] makers name, address and the full 'Verkaufs-Abteilung der Luftwaffe' designation. A couple of breaks to the celluliod panel, and two pieces (by the name tag section) broken away.The visor with a good tan brown leather sweatband with ventilated front and full impressed Erel name.

Condition report: The peak visor cap is for sale in overall excellent to near mint condition (free from moth). The cap insignia is clean, fresh-looking, and free from oxidation. The lining shows light use.
Click here to return to category.