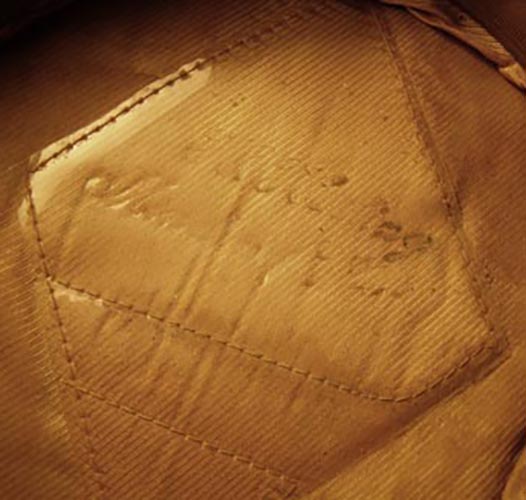 SS Security Service (SD) OR/NCO Visor Cap.
SS Security Service (SD) OR/NCO peak visor cap for sale. The crown to the OR/NCO peak visor cap in a fine quality field-grey wool cloth, with a black wool capband and green piping. The peak visor cap retains the eagle/swastika, and skul badgesl, along with the black leather 'split centre' strap.
The interior to the cap is lined in a tan-coloured silk cloth, with a full celluliod diamond bearing an impressed maker's name & address (H.Henning, Minden (Westf.). The cap has a good quality tan brown leather sweatband.

Condition report: The peak visor surviving in overall very good condition being free from moth or damage, but showing some general use. The SS cap insignia showing just light use, but with most silvering present. The black leather chin-strap with some age cracking in places, likewise, the fibre-peak showing slight age cracking . The cap lining shows some light use overall, with slight greasing to the leather sweatband.
Note: There was a large SD (Gestapo) headquarters based in Minden.

Please click here to send an email about this item, or phone 00 44 (0) 1694 781354 to arrange or discuss purchase, quoting stock number: g007951
Click here to return to category.