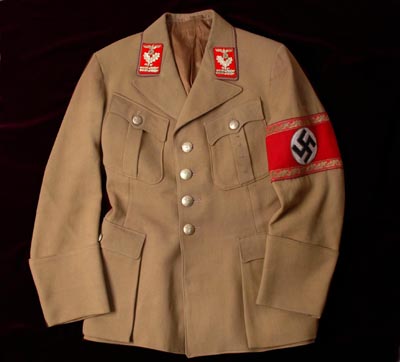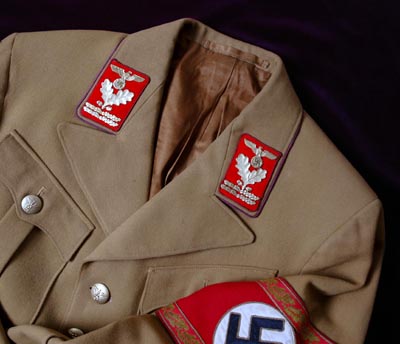 NSDAP Gauleitung Hauptbereichsleiter Tunic.
An NSDAP Gauleitung tunic for sale. The four-pocket, Gauleitung service tunic in typical brown wool gabardine, and with pleated top pockets, and lower box pockets. The tunic with the Gau-level burgundy red piping and collar patches for Hauptbereichsleiter with metal golden eagle & swastika, two oakleaves, and two oakleaves bars, on red velvet, and with burgundy red piping. The brassard for 'Leiter Eine Hauptsamt,' with oakleaf borders. Provision for two awards to the left breast. Golden metal eagle & swastika buttons throughout. The NSDAP Gauleitung tunic is lined in brown silk.
Condition report: A fine Gauleitung tunic offered for sale in near mint condition. The tunic is free from any moth or other damage. The insignia clean and bright.

Click here to return to category.