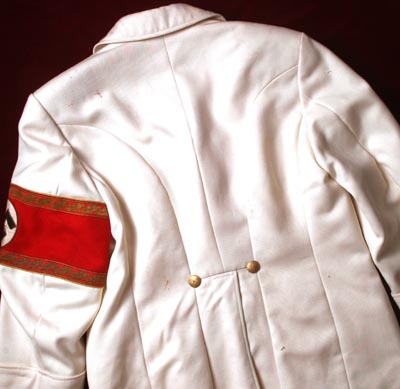 Reichsleitung Higher Leaders White Summer Tunic.
Reichsleitung Higher Leaders white summer tunic for sale. The four-pocket, Reichsleitung level summer tunic in a White wool gabardine. The tunic with pleated top pockets, and ' slash-style' lower pockets, Reich-level collar patches for Hauptdienstleiter, and brassard for 'Leiter Eine Hauptamtes' with oakleaf borders. The High Leaders tunic complete with all golden eagle & swastika buttons. The uppe- left pocket with various loops for awards. The cream silk lining with typical tailor-stripes to the sleeves. A machine-woven tailor's label to the inside, left pocket shows a Viennese address.

Condition report: The tunic with several stains to the white cloth. Moth nips to the left-hand pocket, and both cuffs; additionally, several scattered moth nips. The tunic showing light wear overall. Insignia clean and demonstrating commensurate age and patina.
Provenance:The Summer tunic acquired from the eminent USA-based collector, James Townsend for the Ulric of Englanfd Collection [1980s]. The Tunic in one collection since its sale/purchase in the yr 2000.

Please click here to send an email about this item, or phone 00 44 (0) 1694 781354 to arrange or discuss purchase, quoting stock number: g007852
Click here to return to category.