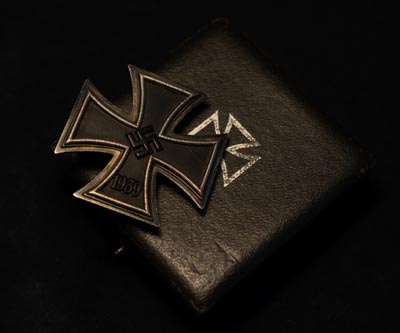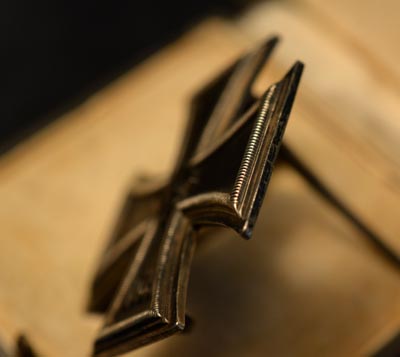 Iron Cross 1st Class. Cased. Made By Zimmermann.
Iron Cross 1st Class for sale. The cased Iron Cross 1st class (made by Zimmermann, Pforzheim) retains its frosted silver beading and polished silver trim. Black centre with beautifully polished swastika and 1939 date. Reverse has a silvered back with polished flat tapered pin bearing maker number '20'
The case to the Iron Cross 1st Class with a fine black grained leatherette finish and deeply impressed silver blocked Iron Cross. The lining to the case with beige velvet base and white silk lid.
Condition report: Overall excellent condition. 100% polished and frosted rim (now aged with a pleasant darkening). 98% background paint (slight age lines to field). Reverse with silver satin finish, free from any marks (now pleasantly age darkened). Polished tapered pin with impressed LDO number '20'. Black leatherette case in excellent condition, free from faults, but with light age and use evident.

Please click here to send an email about this item, or phone 00 44 (0) 1694 781354 to arrange or discuss purchase, quoting stock number: g007258
Click here to return to category.