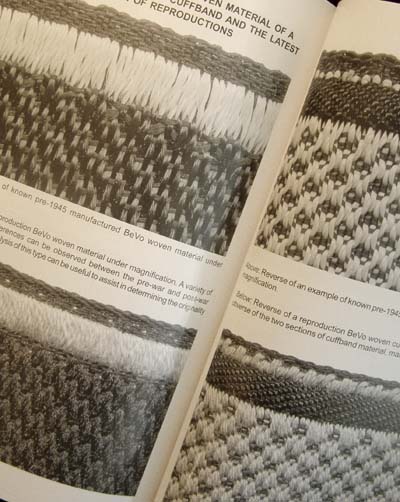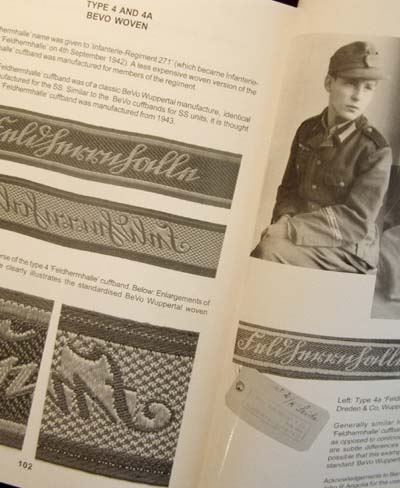 SS Cuff Titles. Collecting Guide. SS Cuff Title Manufacture. Volume 2.
Volume 2 from the SS cuff title series, Collecting Third Reich SS & Political Cuffbands, appraises SS cuff title manufacture idiosyncracies and reproduction cuff titles.
The book is divided into two sections. Part I explores SS Cuff titles by manufacure-type. chapters include:

SS, RZM Machine-embroidered cuff titles.

'Stosstrupp Adolf Hitler 1923' cuff titles.

SS Officer, Machine-Woven, 'flatwire' cuff titles.

SS BeVo, and BeVo-like Machine Woven Cuff titles.
SS Chain-stitched cuff titles.

Part 2 details cuff titles associated with political organisations. The main chapters include:
SA Machine-Embroidered cuffbands
SA Machine-woven
NSDAP Machine-woven
NSDAP Chain-stitched
Hitler-Youth Machine-Woven
Machine-Woven N.S. Reichskriegerbund
Book Format & Publishing details: 120 pages.373 photographs. Laminated [colour] stiff card cove

r
.
Complimenting Volume 1. English A4 size. An Ulric of England publication.
Please click here to send an email about this item, or phone 00 44 (0) 1694 781354 to arrange or discuss purchase, quoting stock number: g006638
Click here to return to category.