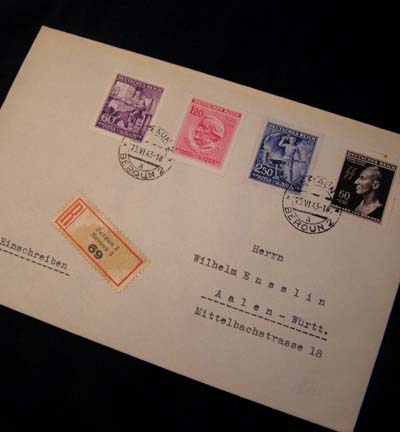 Reinhard Heydrich 'Death mask' Stamp. Unopened Registered Envelope From Meloun, Czechoslovakia*
The commemorative Reinhard Heydrich 'Death mask' stamp, plus three additional stamps secured to a registered envelope (and posted from Meloun, 30km from Prague, former Czechoslovakia), dated 15th June 1943.*
The Registered envelope was sent from Meloun, to Wilhelm Ensslin in Aalen, Württemberg. It was most likely 'self-posted' or sent to a fellow stamp collector. The envelope is sealed, and has not been previously opened.
*On 1 January 1993, Czechoslovakia peacefully split into the Czech Republic and Slovakia. (Reinhard Heydrich, The Biography, Volume 1. Road To War).
Please click here to send an email about this item, or phone 00 44 (0) 1694 781354 to arrange or discuss purchase, quoting stock number: g006592
Click here to return to category.