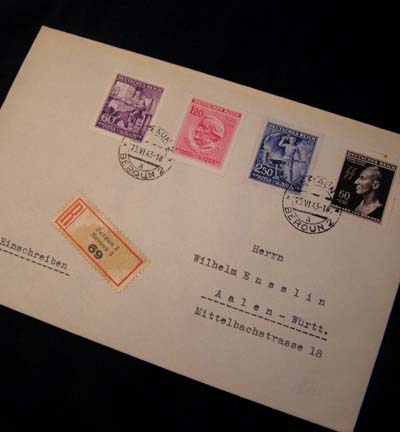 Reinhard Heydrich 'Death mask' Stamp. Unopened Registered Envelope From Meloun, Czechoslovakia*
The commemorative Reinhard Heydrich 'Death mask' stamp, plus three additional stamps secured to a registered envelope (and posted from Meloun, 30km from Prague, former Czechoslovakia), dated 15th June 1943.*
The Registered envelope was sent from Meloun, to Wilhelm Ensslin in Aalen, Württemberg. It was most likely 'self-posted' or sent to a fellow stamp collector. The envelope is sealed, and has not been previously opened.
*On 1 January 1993, Czechoslovakia peacefully split into the Czech Republic and Slovakia. (Reinhard Heydrich, The Biography, Volume 1. Road To War).
Click here to return to category.