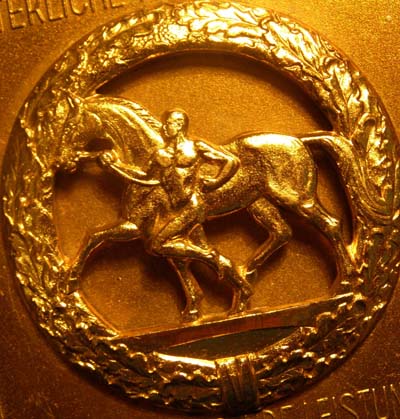 Care of Horses Third Reich Non-Portable Award In Gold
A beautiful Third Reich non-portable award for The Care of Horses in Gold. Golden relief oakleaves with central horse and man motifs, mounted to a golden plaque with relief wording, 'Deutsche Reiterliche Vereinigung (FN) Für Hervorragende Leistungen in Pferdehaltung und-Plege'. Entire plaquette pinned to its original wooden mount, with metal ring to the top for hanging from a wall.
Condition report: Close to mint condition with 99% original mercuric gold plated finish remaining.
Please click here to send an email about this item, or phone 00 44 (0) 1694 781354 to arrange or discuss purchase, quoting stock number: g006508
Click here to return to category.