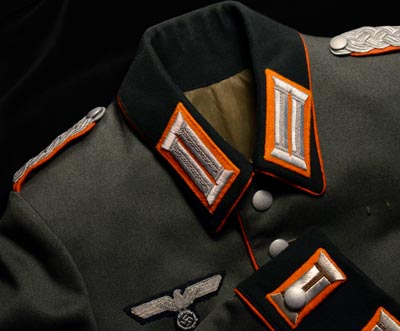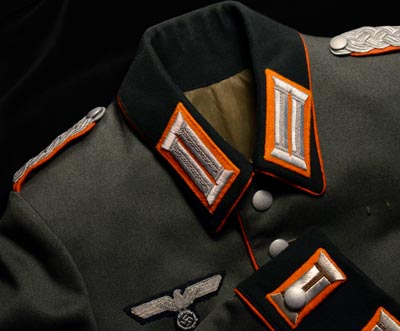 Heer Tunic | Feldgendarmerie | Major | Full Parade.
German Army/Heer tunic for sale. The full parade, Feldgendarmerie tunic made from the highest-quality field grey doeskin, with dark green collar, piped in orange.
The Heer parade tunic with its original epaulette-insignia in silver-on-orange, along with orange-backed collar patch insignia, and a fine, early-quality, silver bullion-wire eagle & swastika. The tunic has provision for a ribbon bar and breast decoration. The tunic has a single, horn button under one epaulette for attaching aiguillettes. Interior lining in an olive coloured silk material, and with typical tailors sleeves in an off white silk.

Condition report: The tunic free from moth or other damage. Insignia fresh and free from oxidation. Signs of a cuff title having been removed from the sleeve. All buttons present

Note: This is one of the rarest colours to find within the Waffenrock [parade tunic] series.

Please click here to send an email about this item, or phone 00 44 (0) 1694 781354 to arrange or discuss purchase, quoting stock number: g006475
Click here to return to category.