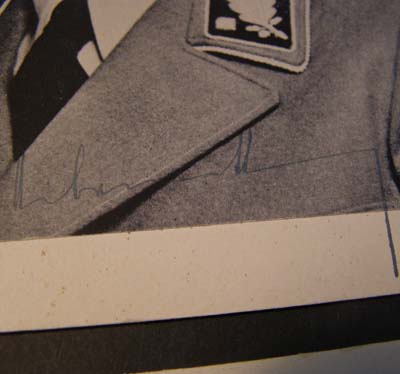 Signed Photograph & Secretary Lettter. SA General & GL Dr.Sigfried Uiberreither
A fine photograph of SA General & Gauleiter Dr. Sigfried Uiberreither. The photograph with blue ink signature. Size: 17cm x 11cm. Together with a letter from Uiberreither's secretary dated 4.10.1939 to Dr.Hans Stülpner.
Provenance: During the 1930s and 1940s Stülpner amassed a significant collection of signed photographs. The collection was dispersed in 2003. Stülpner's name and address is blacked out on the letter from Uiberreither's secretary . The letter confirms the enclosed photograph was signed by Uiberreither.
Please click here to send an email about this item, or phone 00 44 (0) 1694 781354 to arrange or discuss purchase, quoting stock number: g005819
Click here to return to category.