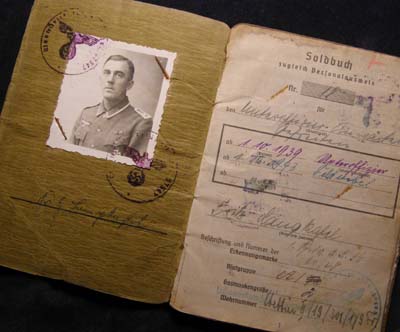 Soldbuch to a Heer Feldwebel With 'Krdschtz.Btl.88
Feldwebel Fritz Langkafel's soldbuch. Langkafel served initially with 'Schwere Schwadron / A.A.36 Div, as an Unteroffizier Anwärter (training as an NCO). Other units that Langkafel was assigned to were, J.G.Ausb.Komp. 29 (mot), and 5.Kp./ Krdschtz.Btl.88. The soldbuch contains an excellent photograph of Langkafel wearing NOC uniform along with his Iron Cross 1st Class. The soldbuch is fully filled in. Awards consist of, Black Wound Badge, Iron Cross 2nd Class, Iron cross 1st Class, Eastern Front Medal and the Motorised Infantry Assault Badge.

Condition report: The Soldbuch is in overall very good used condition.
Additional notes: Low soldbuch number '18'. An excellent soldbuch to conduct further research.

Click here to return to category.