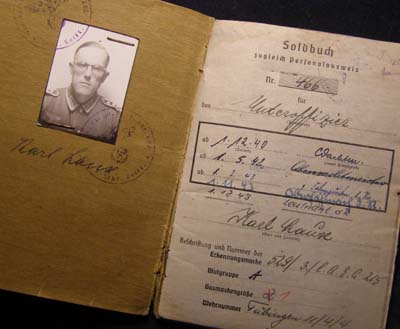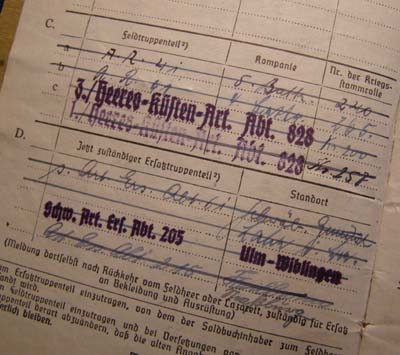 Soldbuch to a Heer Leutnant | Heavy Artillery Battalion.
Heer Leutnant Karl Laux's soldbuch for sale. Laux served initially with 'Artl.Ersatz-Abteilung 215' as an Unteroffizier. He then transferred to 'A.R.41', then '3./Heeres-Küsten-Art.Abt.828', and later with 'Schw.Art.Ers.Abt.205'. By 1943 Laux had been promoted to Leutnant d.R. The soldbuch contains Laux's photograph in NCO uniform and is fully filled in. Decoration's consist of the War Merit Cross 2nd Class with Swords.
Fitted into the back of the soldbuch is the grey linen 'Wehrmact-führerschein' (Army driving licence) belonging to Laux (rank shown as Wachtmeister), along with ten other associated military documents belonging to Laux.

Condition report: The Soldbuch is in overall very good to excellent condition.
Please click here to send an email about this item, or phone 00 44 (0) 1694 781354 to arrange or discuss purchase, quoting stock number: g005575
Click here to return to category.