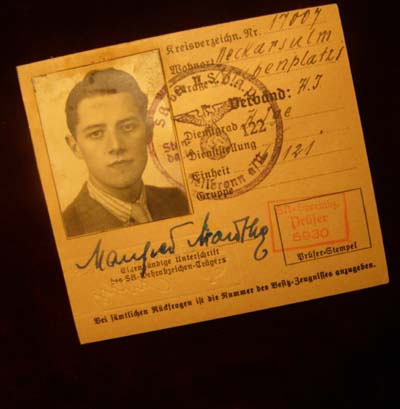 SA Sportsabzeichen - Citation & Related Documents.
SA Sportsabzeichen (Sports Badge) citation book awarded to SA man, Manfred Mauthe from SA-Standarte 122. The group consists of the brown leatherette SA citation book filled in for the award in Bronze. The SA-Wehrabzeichen test book which details the results of the althletics exam for Mauthe. The photo document giving Mauthe the right to wear the SA-Sportsabzeichen in Bronze, and lastly, the brown leatherette wallet which houses the three items.
Condition report: The documents remaining in mint condition free from damage. The wallet showing slight wear and use.

Please click here to send an email about this item, or phone 00 44 (0) 1694 781354 to arrange or discuss purchase, quoting stock number: g005558
Click here to return to category.