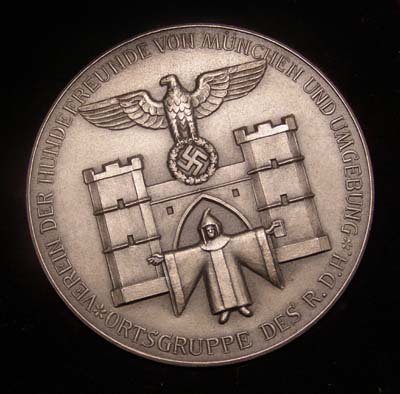 Association Of Munich Dog Breeders In Silver - Cased
Association of Munich Dog Breaders non-portable award in silver. Particularly fine quality circular award with obverse bearing relief dedication and with central eagle/swastika and Munich Gates and Maid. Reverse bears a laurel leaf border and central deciation ' München 1.10.1936'. The case in red leatherette. The interior with blue silk roof and blue/mauve velvet fitted base.

Condition report: Plaque in mint condition with 100% dulled silver finish remaining. The case interior in mint condition. The exterior showing light use only.
Please click here to send an email about this item, or phone 00 44 (0) 1694 781354 to arrange or discuss purchase, quoting stock number: g005506
Click here to return to category.