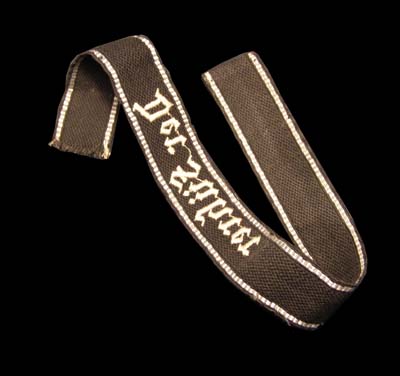 Der Führer Cuff Title | OR/NCO | RZM Machine-Embroidered
Der Führer OR/NCO RZM machine-embroidered cuff title for sale. Off white machine-embroidered gothic letters on black with silver-aluminium (seven strand) upper-and lower borders. Machined ends (typical for this cuff title).

Condition report: Removed froma tunic cuff/sleeve. Showing some general service wear. One end shortened to fit to sleeve. Length now 36.0 cm. Full length as per this type (47.0cm).

Provenance: Ulric of England SS Cuff Title Collection. Acquired 1996. The Der Führer cuff title is photographed in the specialist book Inside The Allgemeine-SS 1925-1945 [page 115].

Notes: Introduced for wear from September 1938.

Rarity status (Up to 10 rarest): 7/10.
Click here to return to category.