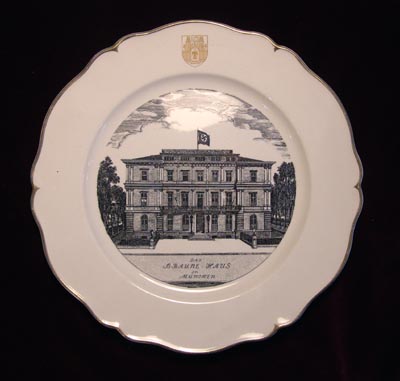 Hitler's Brown House Headquarters | Special Subscription Porcelain Presentation Plate.
Hitler's Brown House Headquarters porcelain presentation plate for sale. Available by special subscription and manufacturerd by the prestigious porcelain company of Villeroy & Boch, Dresden. The fine quality off white porcelain plate with decorative edge with fired gold finishing, along with the fired golden Munich shield bearing the Coat-Of-Arms. To the centre, a fine undergalze transfer of Hitler's headquarters, The Brown House. The reverse with the manufacturer's name, Villeroy & Boch, Dresden.
Condition report: Perfect condition. Size: Diameter 25.5cm
Note: Once Hitler has purchased the semi-derelict building which would become his headquarters in Munich (The Brown House), he set about a large scale building programm to both renovate and enlarge certain aspects of the building. To assist in paying for the work to this building (which would be named the Braunes Haus), Hitler asked for donations from Party members. In return for donations, the members were given a certificate to show they had contributed towards the rebuilding. Other methods of raising money was from special subscriptions, in which members could pay monthly installments, and at the end would be given such items as a porcelain presentation plate. Villeroy & Boch were commissioned to produce the presentation plates. The plates are not numbered, but it is believed that numbers produced did not exceed 1000.

Please click here to send an email about this item, or phone 00 44 (0) 1694 781354 to arrange or discuss purchase, quoting stock number: g003465
Click here to return to category.