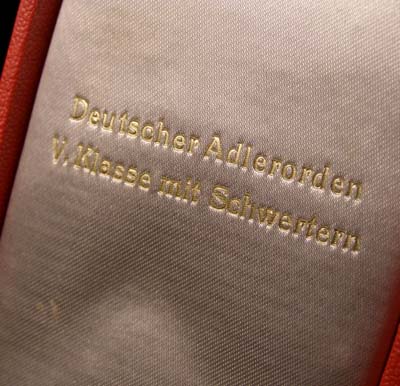 German Eagle Order. 5th Class With Swords. Original Case. 1943.
A German Eagle Order for sale in original issue case. The 1943 Eagle Order, 5th Class with Swords, with white enamel Maltese Cross to the centre, four golden eagles, and golden swastikas set against a white enamel background. This particular German Eagle Order with applied golden swords. Typical fan to the top allowing suspension from the moire silk ribbon. The ring, stamped with the maker code number '21.'
The original, red leather case, with gold impressed eagle & swastika cartouche to the lid. The case is lined with black velvet to the base, and white silk to the lid. The gold-blocked designation to the lid reads: 'Deutschen Adlerorden V.Klasse mit Schwertem.'
Condition report: Mint condition with perfect ribbon. Case in close to mint condition. Exemplary, burnished-gold edges to the eagle motifs.
Please click here to send an email about this item, or phone 00 44 (0) 1694 781354 to arrange or discuss purchase, quoting stock number: g002576
Click here to return to category.