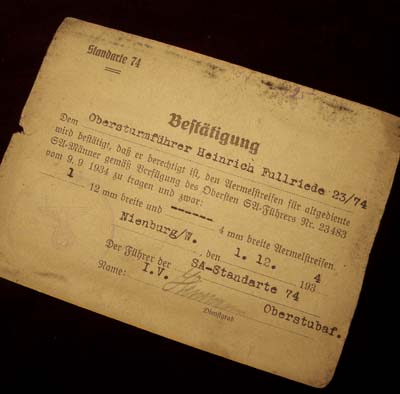 SA Officer Citation for the Long Service Stripes
Citation for the Long Service Stripes awarded to SA-Obersturmführer Heinrich Fullriede in 1934. The buff coloured citation document gives Fullriede the right to wear the 12mm silver Long Service Stripe. The citation headed 'Standarte 74' and hand stamped with the eagle/swastika. The citation is hand ink signed by the leader of SA-Standarte 74.
Condition report: Signs of use particularly around the edge, otherwise very good overall condition.
Please click here to send an email about this item, or phone 00 44 (0) 1694 781354 to arrange or discuss purchase, quoting stock number: g001320
Click here to return to category.