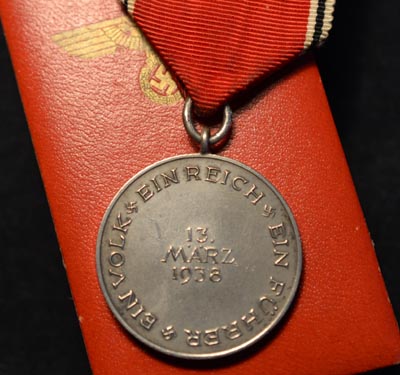 Entry into Austria Medal | Cased
Entry into Austria Medal - 13th March 1938, complete with original case of issue. The medal with fine heavy silvered finish and complete with correct silk ribbon. The red morroco facsimile leather case with golden eagle/swastika to the front. The interior with white silk roof and red velvet base.

Condition report: Medal in near mint condition. Silk ribbon perfect. Case in overall excellent condition. Top of lid near to perfect with the golden eagle clear and fine. Interior of case excellent condition.

Please click here to send an email about this item, or phone 00 44 (0) 1694 781354 to arrange or discuss purchase, quoting stock number: G008177
Click here to return to category.